Why did you decide to dedicate the exhibition «Pour into things» specifically to the theme of USSR and how do you feel about it?
I share my childhood memories through this project; I'm telling about the enforced image and its transformation. I don't judge it. It is just my personal story.
I was a child at that period, anyway the personality had already begun to form and The Soviet Union had certainly affected me. I can still remember different primers, textbooks with Lenin's depiction. I do remember that strong feeling of joy that fulfilled me, when I entered the solemn school line in the corridor where a star shaped badge with Ulyanov image was pinned. Of course, it was joy. I had been dreaming to become a pioneer back then. But I didn't have time to become one, and the feeling that there will no longer be actual pioneers is a childhood drama for me.
I participated in all the holiday processions. I do remember the First of May well. People were forced to join the demonstrations. My mom always joined, so did her co-workers. Many people would take children with them, including me. The memories from those processions are so detailed, that it feels like I was mature then, despite I was only 5 years old. I distinctly remember the place where my mother and I stood on the first of May: the fence alongside the alley, people with posters…
Untitled, 2017
ceramics, glaze
50 x 50 x 25 cm
Could you tell about the title? It reminds a phrase from Velimir Khlebnikov's poem: «Pour life spirit into things! »…
In fact, the title has nothing to do with the meaning of the exhibition. Even though some associations with sculpture exhibition may occur. But I never intended to give it a title that explains all the conception. I would like if the title that doesn't reflect what is present in the exposition.
Visitors took photos of the work with depictions of Marx, Lenin and Stalin more frequently. Describe it.
First, there is a well-known soviet poster with three of them. Second, in this case it is chronology. And third, here I picture someone who based Marxism, next the one who recounted it, and last the person who tried to put it into practice. In this sculpture Marx and Lenin share one head, while Stalin and Lenin have same mouth. In general, Marx figure remains in invisible zone for me. We all know something about Marxism, yet little is known about Karl himself. Personally I have always felt sympathy for Marxism.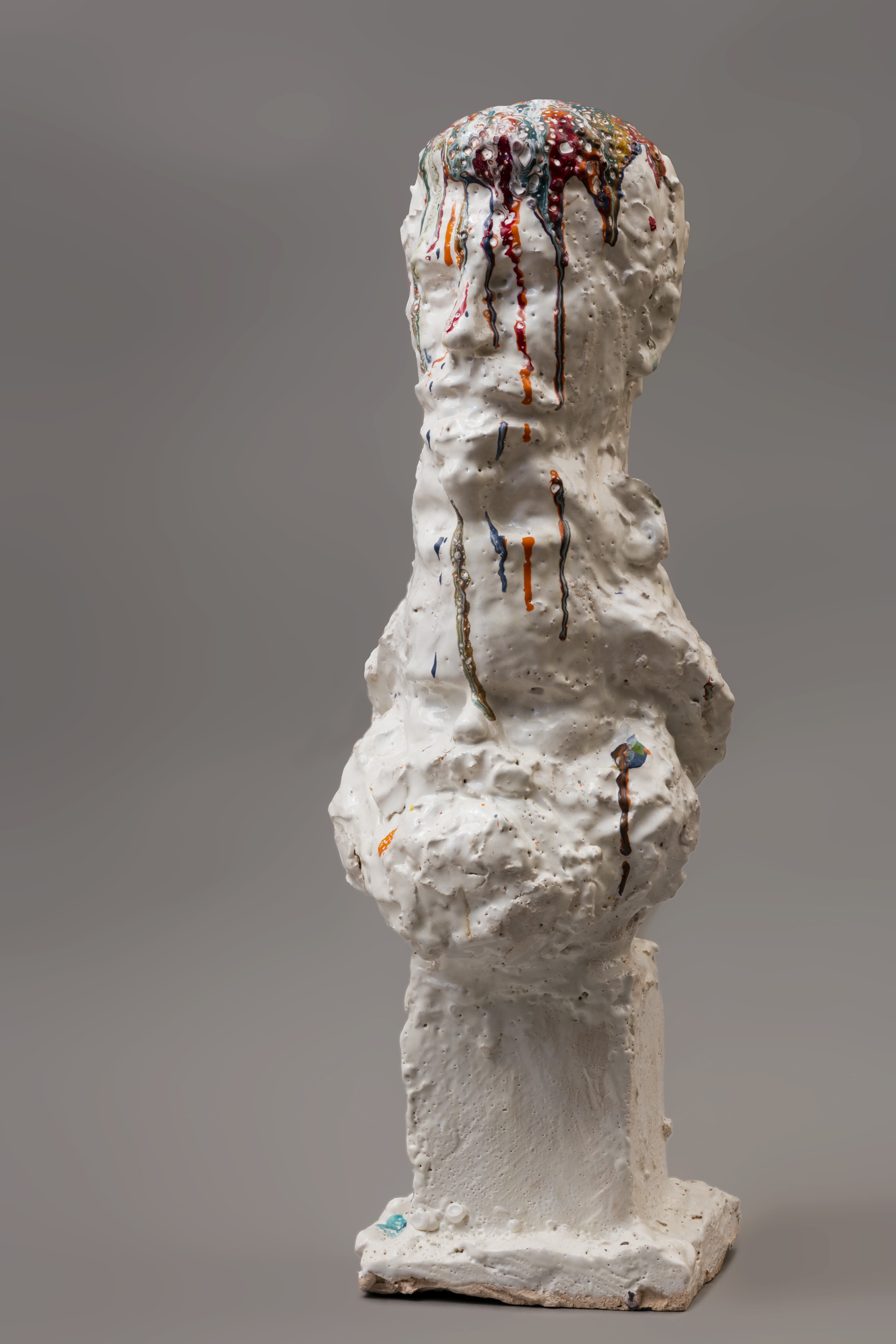 Untitled, 2017
ceramics, glaze
65 x 20 x 20 cm
Why did you paint hippos on a banner tarpaulin?
This idea came to me a very long time, since my studying at the Academy of Arts. First, hippo is the most aggressive animal, and everyone feels aggression from time to time. That's what a hippo personifies. Aggression is energy of animal origin.
Second, hippo has special meaning in mythology. For instance, he was described in Bible as one of the monsters, which god demonstrated to righteous Iob to prove his might. He is also demon of carnal desires. Moreover, in Hebrew "behemoth" means animals in general.
Third, hippos are herd animals, I associate them with uncontrollable crowd. Sometimes people are engaged in imposed ideology so much they stop being humans and become a herd.
And red color, in which the animals are painted, is connected not only with aggression but also with Soviet Union. There were many red posters and the flag itself.
«Pour into things»
Exhibition view
And why are the sculptures not named?
They are organic whole for me, I cannot spate them. It is just one whole entire series with the same name.
There are two bronze sculptures while the rest are ceramic. How do you choose material?
Well, both bronze and granite are pretty pathos materials for monumental sculptures. And wanted to create sculptures that would remind small statuettes. Such were standing on the consoles in every house in Soviet Union. By the way, some people consider white ceramic figures to be kitsch. That's just what I tried to achieve. I added colorful flows to make an impression a machine that paints the figures had failed.
Untitled, 2017
ceramics, glaze
36 x 45 x 25 cm
How did you find this theme? Your earlier works differ, both in meaning and form.
I was living in spartan conditions two years ago, it was a particularly challenging time for me. That's why the works were different. I created sculptures with cut faces, something non-human. But later I had the possibility to consider what exactly I want to create. Lenin and hippos somehow came into mind. I also started painting with watercolors on paper a lot. Later I switch to big banners.
Are you planning to continue developing the Soviet Union theme?
No, I would like to conclude it already. I feel like I have told everything on the topic, but maybe I won't be able to free entirely from it.
Why did you choose sculpture?
I was originally interested in monumental sculpture. When I entered the academy, I was sure that I will dedicate my life to this case after graduation. From the second year I created monumental sculptures 5 meters high. There were even some orders. But then I realized that it was not for me. I was somehow commissioned to make a sculpture of Shevchenko, but I refused.
Why?
I liked the idea at the beginning and I wanted to create big and serious object. I arrived to see the place, spoke with people and realized that in fact no one needed the sculpture. For the most part, the customers did not care whose sculpture it was. It was important to do anything, so it would be discussed. So, after that I understood I didn't wanted to engage into it.
Can you imagine yourself as a painter?
No, it's not for me. Although I was working with it.
Tell me about the process of creating.
Every work is an iceberg for me. To be more precise, the work in its physical incarnation is the visible top of an iceberg; and what it is made of remains unseen. But it is present and without these accumulated knowledge and ideas, the work itself would not have existed. I don't aim to create the top of the iceberg only as soon as possible, I precisely construct the iceberg entirely. I'm interested in the process of creation, I wonder what will become of this puzzle.
So, you don't have sudden insights, the descend of the muse, after which you create something spontaneously?
Idon't believe in spontaneity. But cannot say that I approach creating rationally. It never happens that I could seat down, think and create. I need a long time to nurture a project, form it in my head, collect information. But art is always beyond one simple scheme.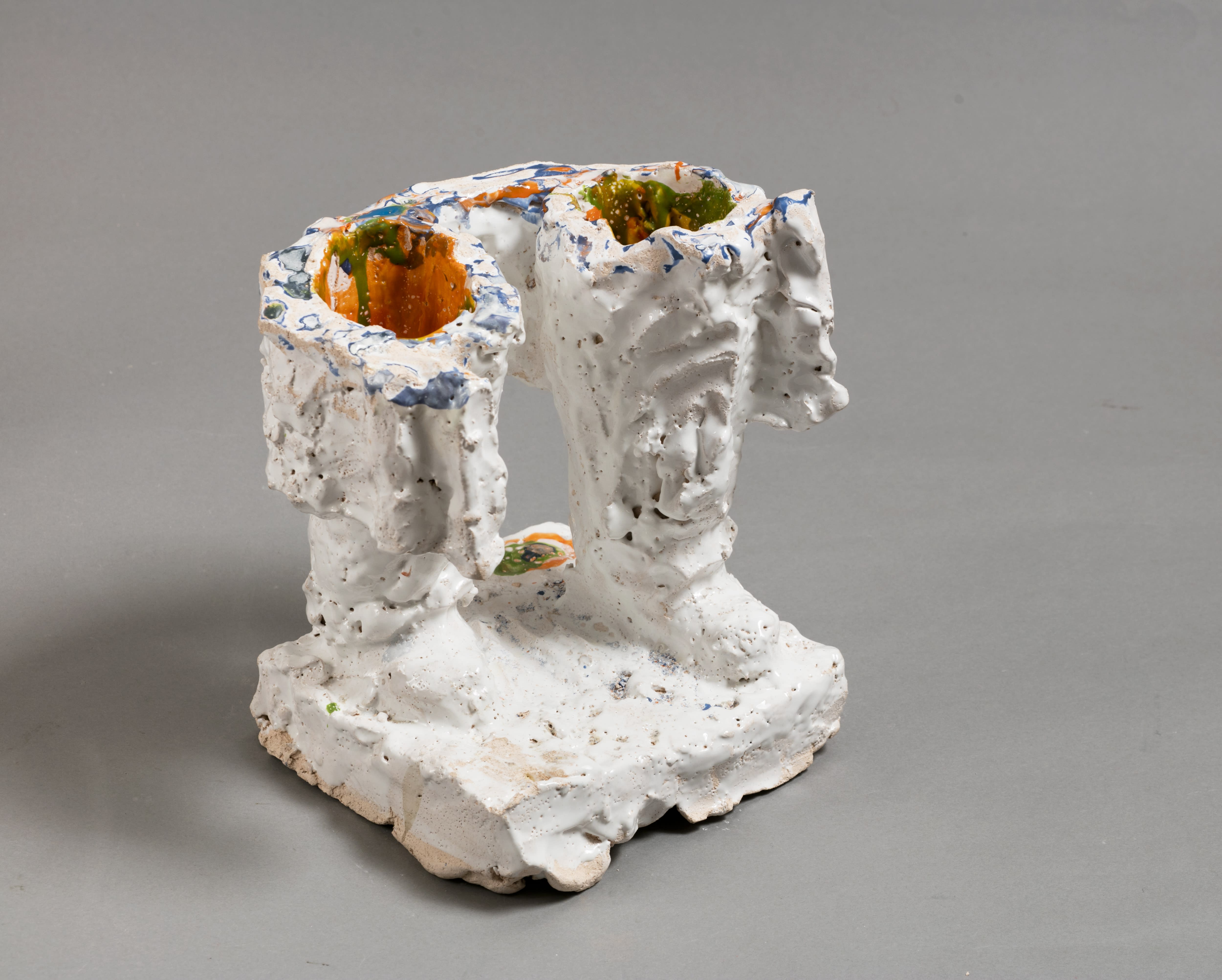 Untitled, 2017
ceramics, glazer
23 x 23 x 18 cm
Your work is often attributed to the genre of total installation. As far as I understand you aim is to construct space. All of that refers to the monumental art in Ancient Greece, where sculptures contributed sacral atmosphere. Could you tell us more about it?
To begin with, temple itself is already an installation, which include element creating certain atmosphere. And various ceremonies in the temple are some kind of performance. I try to examine and employ those unconscious areas of human mind that perform daily rituals to be for centuries. A cup of tea in the morning is also a ritual.
Are there any artists or sculptors close to you?
Bruce Nauman. His experiments are interesting. I especially like that his not bound to nly one genre or medium.
May 7, 2017